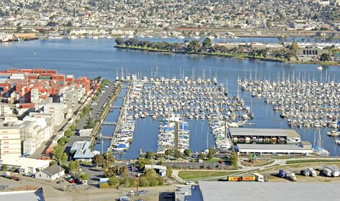 Alameda is a prime marina location.
Fortman Marina is a 497 berth Marina located at 1535 Clement Avenue in the City of Alameda, County of Alameda, California. The harbor is situated along the Oakland estuary, opposite of Coast Guard Island in Alameda, which is considered one of the prime marina locations in the Bay Area.
The total site area is approximately 15.5 acres. Fortman Marina offers the modern day boater a premier facility complete with 31 covered berths. Berth sizes range from 15' to 60'. In addition, each berth is furnished with a dock box, electrical power, phone service, and fresh water. Access to the individual docks is through several locked gates with key entrance systems. Parking for the Marina is provided by approximately 277 spaces primarily located along the western fence line of the property. A small "mini-park" exists at the southern end of the property landscaped with small trees and grass, wooden benches, and asphalt walkways. You'll also find a wood deck and walkway located adjacent to the Harbormaster Office and Alameda Yacht Club buildings.
Why You'll Love Fortman Marina...
Quiet, sheltered waters with excellent sunny weather
All new shoreside facilities including general store, showers and bathrooms
Mini park and large deck available for picnics, barbecues and other boat owner and guest activities
Near by Haul-out facilities
Yacht brokerage
Home of the Alameda Yacht Club
Lowest Rates in the Bay Area ..... Check!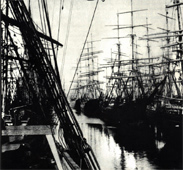 Fortman Marina dates back to 1904, when the Alaska Packers Association began purchasing waterfront lands bordering San Antonio Estuary, Alameda. This safe and sheltered anchorage was chosen to winter their large fleet of wooden sailing vessels.

In 1926 the Alaska Packer Association was formally changed to Fortman Basin. As time went on and wooden sailing vessels became too old for the strenuous weather of the Northern Pacific Ocean, the Alaska Packers Association purchased large steel sailing vessels and the old barks were retired from the service. Thus, it was at this time, in the early thirties, that Fortman Basin began to experience change.

Pat Clintsman started the chain of events with his newly constructed Warren Craft, a motor cruiser that he built in a boatworks building that used to exist at Fortman Basin. These vessels were launched and berths began to appear along the Basins westerly shore.

Lou Hulsey purchased Fortman Basin Marina in 1935, and expanded it to 100 berths. At that time it was called Hulsey's Sunken Gardens.

Pat Kirrane succeeded Hulsey in the early forties, renaming the facility Alameda Yacht Harbor, and it doubled in size. Pat leased the harbor out during the war. In 1945, during Pat's absence, the boatworks was purchased by Walt Latham and Emerson Doble. Fine wooden yachts, many of which still grace the slips of the harbor, were built there.

In 1954, Emerson Doble purchased Alameda Yacht Harbor from Pat Kirrane. From the years 1954-1967, the "Harbor" as it is popularly called, grew to 300 berths. Once again ownership changed hands.

H.P. Anderson and company assumed ownership from the years 1967-1984. Again the Harbor grew and expanded in size.

In March 1984, Alameda Yacht Harbor was purchased by Hunting Gate Investments, Inc., and renamed it Fortman Basin. Once again the harbor grew, to its present figure of 497 berths, and it is considered home port to some of Alameda's finest yachts.

Stop by the Harbor Office to look at the priceless photographs of the Alaska Packers and Fortman Basin in their original glory.
Mark Ruckman, Harbor Master
For over 25 years, Mark has been harbor master at Forman Marina. He is highly respected among his peers for his bredth of knowledge, his willingness solve any problem, and his customer-first atitude.